Small / Nano Aquariums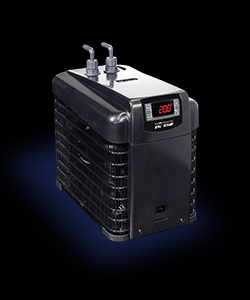 TK-150
Provides plenty of ventilation in a small footprint, perfect for small aquariums in confined spaces. Front-side A/C port and digital thermostat.

Standard / Medium Aquariums
TK-500 • TK-1000 • TK-2000
Improved usability and maximum cooling efficiency. Rotatable exhaust manifold directs heat away from operating environment. Magnet-mount filter screen for easier cleaning. Now includes a built-in heater.
High-Capacity Chillers/Heat Pumps
TK-5K • TK-8K • TK-15K
TECO's TK Heat-Pumps are low-energy consuming workhorses providing exceptional cooling and heating efficiency in large-scale tank applications. High-quality components and structure. Suitable for industrial applications.