TK-8K Heat Pump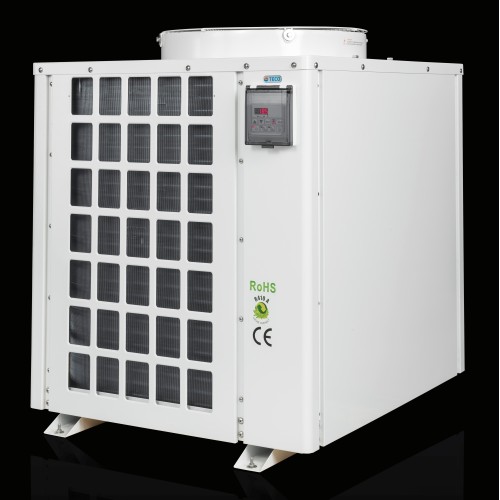 Chiller Technical
Aquarium Size
please contact us for specific sizing
Horsepower
3.5 HP
Maximum Pressure
29 psi
Minimum Flow Rate
1819 gallons per hour
Maximum Flow Rate
1585 gallons per hour
In/Out Water Connection
1.5" tube diameter
Supply
240-volts, 60Hz - 1 phase/13.1 Amps
Gas/Refrigerant
R410A
Cooling Power
8.70 kW
Required Breaker
60 Amp
Cooling Power Consumption
4490 Watts - 15320 BTU/hr
Heating Power Consumption
2800 Watts - 9550 BTU/hr
Working Modes
Cool, Heat
Weight
231.49 lbs (105 kg)
Dimensions
26.18" x 28.54" x 33.15"
TK-8K Heat Pump
3.5 HP, 240V-60Hz, 1 phase
The TECO TK-series Heat Pumps are high-performance units designed for aquarium applications. These heat pumps are built with high-quality materials, even the smallest components.
HIGH-PERFORMANCE REFRIGERATION TECHNOLOGY
TK Heat Pumps use internationally-recognized rotary compressors with a titanium coaxial heat exchangers to ensure low-energy consumption while sustaining the highest in performance throughput. The technology in these heat pumps allows one to decrease noise levels and achieve a high COP (coefficient of performance) contributing to significant energy savings.
DIGITAL THERMOSTAT
The setting of functions is intuitive and the temperature detection is accurate, resolution 0.5°C/1°F. The setting range is 5°-40°C (41°F-104°F) and there is a closed loop temperature control system with high accuracy and extremely tight differential 2°C/5°F. Displayed temperature is in °C or °F and there are security alarms. Possibility to control remotely the display using supplied cable, degree of protection IPX4.
EFFICIENT DESIGN
The unit is characterized by a solid structure and was designed to provide maximum oxidation protection--great for use with salt-water.
UNIQUE FEATURES
TK Heat Pumps are also suitable for many industrial applications.
** ITEM IS BACKORDERED. CALL IN ADVANCE BEFORE PURCHASE: (972) 203-7475 **
Stock:

In Stock

Model:

TK-8K Heat Pump

Dimensions:

26.18in x 28.54in x 33.15in